EXPANSION OPPORTUNITIES
PRO-TEC, a world leader in advanced and ultra high-strength steel coating for the automotive industry, is seeking applicants to fill key technical positions to support expansion of its state-of-the-art facility in Leipsic, Oh.
PRO-TEC is seeking individuals that will support a culture of safety and environmental compliance with safe operating pro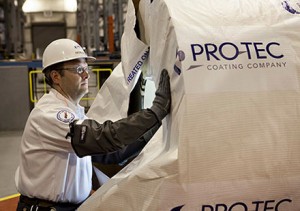 cedures and practices, continuous improvement efforts, ability to work in self directed and team environment, and has strong communication skills. Must have demonstrated capability to work safely in a manufacturing environment with experience in lockout/tryout of all energy sources.
REPAIR/LINE OPERATORS: Responsible for operation of continuous operating line; visually inspect, track, and verify coils; maintain proper conditions/settings to produce prime quality product with maximum efficiency. Requirements include:  troubleshooting and repair of line equipment, technical knowledge, good computer, math, and reading comprehension.  Two-year associate's degree in technical discipline or two years related work experience.
PRODUCTION ASSOCIATES: Responsible for working with customer specifications of packaging and material handling equipment including coil scale, coil marker, ID and OD banding units, paper dispensing unit, packaging crane, & printers.  Also performs duties related to receiving substrate, shipping coated coils, and other associated warehouse activity.
 GROW WITH A WINNING TEAM!
Competitive pay package including profit sharing • Customized benefits to meet your personal needs •Emphasis on personal development including pay-for-knowledge training and tuition reimbursement • Clean, modern work environment with cutting edge technology • Self-directed work teams • Focus on Excellence
To apply, you must have a high school diploma; be at least 18 years of age with a valid driver's license at the time of employment; have the ability to work rotating shifts and perform physically active job tasks and a willingness to participate in pre-employment testing and screening.
 Applications will not be accepted at the plant location.
Only online applications will be accepted.
To apply online, go to applyohio.com
Click on "Jobs"
Under "Selected Location", scroll down to "Leipsic, OH".
Click on "Search" to select the available position(s).
If you need Internet access, please visit one of the following Spherion offices: Lima, 216 North Elizabeth St.;
Findlay, 1730 E. Melrose Ave.; or Defiance, 1018 Ralston Ave. Questions, call (419)227-0113.
An Equal Opportunity Employer M/F/D/V
__________________________________________________________________________________________________________
TECHNICAL EDUCATION SCHOLARSHIP & MANUFACTURING INTERNSHIP
Enhance your Technical Education with Hands on Experience.
PRO-TEC Coating Company, located in Leipsic, OH, is an innovative leader in technologically advanced steel. We are seeking candidates for our NEW Technical Education Scholarship & Manufacturing Internship at our state-of-the-art facility.
We believe in manufacturing careers and are committed to providing students with the skills and education needed to be successful in the manufacturing industry.
We are looking for students who have a good mechanical aptitude and are interested in manufacturing processes.   The skills you learn will help you prepare for future employment: teamwork, mechanical skills, safety, problem solving, customer specifications, working with tools and equipment, and learning quality systems.
 Program Description:
This Program includes a part time internship in the manufacturing environment as a Packager as well as focused training in several areas of manufacturing, for a full understanding of the manufacturing process.
The Scholarship will pay a portion of your college credits each semester.
Application information
Please send your resume to PRO-TEC Coating Company, 5500 PRO-TEC Parkway, Leipsic, OH 45856 or submit online at info@proteccoating.com.  If selected, you will be contacted to complete the required testing.
To apply, you must have a high school diploma (or obtaining one in May), plan to attend a 2-year college, be at least 18 years of age with a valid driver's license at the time of employment, be willing to work in the manufacturing environment, have the ability to work two weekends/month, and perform physically active job tasks safely. 
 _________________________________________________________________________________________________
ENGINEERING CO-OP OPPORTUNITY
Join a winning team! PRO-TEC Coating Company is an innovative leader in technologically advanced steel, primarily for the automotive industry, currently seeking highly motivated team members to fill ENGINEERING CO-OP positions at its state-of-the-art facility in Leipsic, OH as early as January 2019!
Opportunities in the Operations Group may include:
Facility projects and maintenance
Automation and electrical
Wastewater and utilities
Mechanical equipment and process engineering.
Assignments and activities will support the operations and maintenance of four large steel processing facilities with the capacity to process 2 million tons of steel annually. Tasks will be based on need and the applicant's skills and interests. Assignments will support tenured engineers to maintain and improve the facility and process lines for peak machine availability, reliability and productivity.
Responsibilities may include:
Project management
Installation of new capital equipment
Continuous improvement projects
Equipment and process troubleshooting
Maintain and update drawings to reflect equipment changes and updates
Oversee and direct contractors on designated projects
Manage multiple priorities and projects at once; keep track of delivery dates and deadlines.
Job Qualifications
Ability to communicate effectively and professionally within all areas of the business; daily communication with engineers on the progress of projects and weekly engineering meetings.
Utilize appropriate software for the application: MS Excel, Word, PowerPoint, AutoCAD, CMMS
Safety conscious individual with knowledge of industrial safety
Current enrollment in an undergraduate Engineering degree program. Engineering majors considered include: Electrical, Mechanical, Computer, Metallurgical and Civil Engineering
Strong analytical skills to think through situations and trouble shoot
Must be able to work independently and in a team
Ability to multi-task
Other
Successful completion of sophomore year or approximately 60 hours towards a Bachelor Degree is preferred.
A minimum cumulative G.P.A. of 3.0.
Availability for two work cycles (or at least 3 semesters) is preferred.

Starting rate dependent on completed hours and program.
How to Apply
Please attach a cover letter and resume to info@proteccoating.com 
_____________________________________________________________________________________________________________
HR Compliance Manager:
Position requires strong communication skills, management experience, and the ability to work independently. Incumbent will be responsible for training development, employee relations problem resolution, investigations, performance management, and health and wellness compliance. Knowledge of Microsoft Office and advanced writing skills preferred.
Bachelor degree in Human Resources or related field is required. 5 years of professional HR experience specifically in management, compliance and enforcement of human resource related policies, procedures, and programs. MBA and PHR certification preferred.
EHS Specialist:
Position provides technical and administrative support for environmental, health and safety management functions. Incumbent will be responsible for a wide variety of regulatory compliance management, training, recordkeeping, and communication activities. Advanced computer knowledge is preferred to conduct daily activities using data entry, Microsoft Office and other web-based applications.
Associate degree in Safety and/or Environmental functional areas or other related degree required, Bachelor's degree preferred. Minimum of 2 years of Environmental, Health and Safety experience is required including knowledge of regulatory compliance standards. Ability to work in plant operating areas as needed. Strong communication and interpersonal skills are a must.
GROW WITH A WINNING TEAM!
Competitive pay package including profit sharing
Competitive and customized benefits to meet your personal needs
Emphasis on personal development including tuition reimbursement
Clean, modern work environment with cutting edge technology
Self-directed work teams
Focus on Excellence
For consideration, please submit your resume and salary history to:
PRO-TEC COATING COMPANY
5500 PRO-TEC PARKWAY
LEIPSIC, OH 45856
ATTN: HUMAN RESOURCES
Or submit online at
Click on Contact, Employment Info.,
info@proteccoating.com
An Equal Opportunity Employer M/F/D/V
_____________________________________________________________________________________________________________