EXPANSION OPPORTUNITIES
PRODUCTION ASSOCIATE
PRO-TEC Coating Company is a leader in the industry with technologically advanced steel at its state-of-the-art facility in Leipsic, OH. The high strength, light weight steel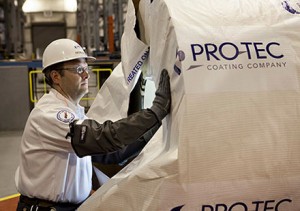 provided to the automotive industry enables them to produce safer, more fuel efficient vehicles.
Are you looking for a career, not just a job?  Do you take initiative and do quality work?  Are you willing to learn something new?  Do you want to be part of a self-directed work team?
 PRO-TEC provides classroom and on-the-job training to ensure new Associates get the training they need.   If you are looking for
 a change, start the process today! 
 Earn over $3,500 per month (equivalent to over $20/hr.) and over $880 per month towards your retirement and benefits allocation.
 GROW WITH A WINNING TEAM!
Competitive pay package (including profit sharing) • Customized benefits to meet your personal needs •Emphasis on personal development, including pay-for-knowledge training and tuition reimbursement • Clean, modern work environment with cutting edge technology • Self-directed work teams • Focus on Excellence
To apply, you must have a high school diploma or the equivalent, be at least 18 years of age with a valid driver's license at the time of employment, have the ability to work rotating shifts and perform physically active job tasks.  Candidates must be willing to participate in pre-employment testing and screening. 
Applications will not be accepted at the plant location. 
Only online applications will be accepted. 
To apply online, go to applyohio.com
Click on "Apply For PRO-TEC"
Then click "Apply Now".
 If you need Internet access, please visit one of the following Spherion offices:
Lima, 216 North Elizabeth St. or Findlay, 1730 E. Melrose Ave.
Questions, call (567)208-5471.
An Equal Opportunity Employer M/F/D/V
QUALITY ASSURANCE ENGINEER OPENING
PRO-TEC Coating Company is an innovative leader in technologically advanced steel primarily for the automotive industry.  PRO-TEC is currently seeking a highly motivated team member to fill a QUALITY ASSURANCE ENGINEER position at its state-of-the-art facility in Leipsic, Ohio.
The successful candidate will assume responsibility for an assigned segment of business to assure timely delivery of product which meets or exceeds customer specifications and expectations.  Incumbents look for and identify quality niches, continuous improvement opportunities and areas of product differentiation to maintain/create a quality and productivity edge in the marketplace.  This position requires skills in receiving and setting up production orders, evaluating held material, evaluation of quality complaints, responding to customer requests and managing and tracking corrective actions.  3 – 5 years of experience in automotive, steel or quality field.  Bachelor's degree in Metallurgy, Materials Engineering or other related area of concentration desired.  ASQ or other relevant certifications desirable and current related work experience.  Applicant must possess strong communication skills and be capable of working actively in a participative team environment.
GROW WITH A WINNING TEAM!
Competitive pay package including profit sharing • Competitive and customized benefits to meet your personal needs •Emphasis on personal development including tuition reimbursement • Clean, modern work environment with cutting edge technology • Self-directed work teams • Focus on Excellence
For consideration, please submit your resume and salary history to: 
PRO-TEC COATING COMPANY
5500 PRO-TEC Parkway
LEIPSIC, OH 45856
ATTN:  HUMAN RESOURCES
 or email to:
info@proteccoating.com
An Equal Opportunity Employer M/F/D/V
 __________________________________________________________________________________________________________________________