PRODUCTION ASSOCIATE:
PRO-TEC Coating Company is a leader in the industry with technologically advanced steel at its state-of-the-art facility in Leipsic, OH. The high strength, light weight steel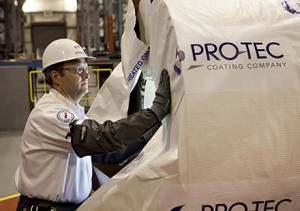 provided to the automotive industry enables them to produce safer, more fuel-efficient vehicles.
Are you looking for a career, not just a job?  Do you take initiative and do quality work?  Are you willing to learn something new?  Do you want to be part of a self-directed work team?
 PRO-TEC provides classroom and on-the-job training to ensure new Associates get the training they need.   If you are looking for
 a change, start the process today! 
 Earn over $3,500 per month (equivalent to over $20/hr.) and over $880 per month towards your retirement and benefits allocation.
 GROW WITH A WINNING TEAM!
Competitive pay package (including profit sharing) • Customized benefits to meet your personal needs •Emphasis on personal development, including pay-for-knowledge training and tuition reimbursement • Clean, modern work environment with cutting edge technology • Self-directed work teams • Focus on Excellence
To apply, you must have a high school diploma or the equivalent, be at least 18 years of age with a valid driver's license at the time of employment, have the ability to work rotating shifts and perform physically active job tasks.  Candidates must be willing to participate in pre-employment testing and screening. 
Applications will not be accepted at the plant location. 
Only online applications will be accepted. 
To apply online, go to applyohio.com
Click on "PRO-TEC Production Associate"
Then click "Apply Now".
   If you need Internet access, please visit one of the following Spherion offices:
Lima, 216 North Elizabeth St. or Findlay, 1730 E. Melrose Ave.
Questions, call (567)204-4198.
  An Equal Opportunity Employer M/F/D/V
_____________________________________________________________________________________________________________________________________
Engineering Co-Op Opportunity
Join a winning team!  PRO-TEC Coating Company is an innovative leader in technologically advanced steel, primarily for the automotive industry, currently seeking highly motivated team members to fill ENGINEERING CO-Op positions at its state-of-the-art facility in Leipsic, Oh.
Mechanical Co-Op & Electrical Co-Op:  Help needed to work with Mechanical and/or Electrical Project Engineers on a variety of process-oriented projects.  Engineering Co-Op wages will be discussed individually.
Engineering field or related field of study preferred
Junior, Senior status preferred
The following information is needed to be considered for employment. 
Updated Resume

List experience at PRO-TEC or previous employers

Cover Letter with the following information:

Available start date
End date to return to college
E-mail address/cell phone number/home phone number
Major
Which position you are applying for

Please send the required information to PRO-TEC Coating Company, 5500 PRO-TEC Parkway, Leipsic, OH 45856, ATTN:  Tonya Sudlow or submit online at www.proteccoating.com.  Click on Contact, Employment Info., info@proteccoating.com.
 RESUME/COVER LETTER NEEDED BY SEPTEMBER 29, 2023