EXPANSION OPPORTUNITIES
PRODUCTION ASSOCIATE
PRO-TEC Coating Company is a leader in the industry with technologically advanced steel at its state-of-the-art facility in Leipsic, OH. The high strength, light weight steel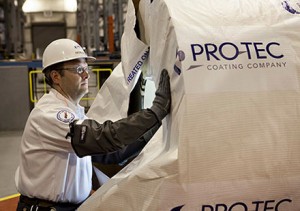 provided to the automotive industry enables them to produce safer, more fuel efficient vehicles.
Are you looking for a career, not just a job?  Do you take initiative and do quality work?  Are you willing to learn something new?  Do you want to be part of a self-directed work team?
 PRO-TEC provides classroom and on-the-job training to ensure new Associates get the training they need.   If you are looking for
 a change, start the process today! 
 Earn over $3,500 per month (equivalent to over $20/hr.) and over $880 per month towards your retirement and benefits allocation.
 GROW WITH A WINNING TEAM!
Competitive pay package (including profit sharing) • Customized benefits to meet your personal needs •Emphasis on personal development, including pay-for-knowledge training and tuition reimbursement • Clean, modern work environment with cutting edge technology • Self-directed work teams • Focus on Excellence
To apply, you must have a high school diploma or the equivalent, be at least 18 years of age with a valid driver's license at the time of employment, have the ability to work rotating shifts and perform physically active job tasks.  Candidates must be willing to participate in pre-employment testing and screening. 
Applications will not be accepted at the plant location. 
Only online applications will be accepted. 
To apply online, go to applyohio.com
Click on "PRO-TEC Production Associate"
Then click "Apply Now".
 If you need Internet access, please visit one of the following Spherion offices:
Lima, 216 North Elizabeth St. or Findlay, 1730 E. Melrose Ave.
Questions, call (567)208-5471.
An Equal Opportunity Employer M/F/D/V
______________________________________________________________________________________________________________________________________
 __________________________________________________________________________________________________________________________