PRODUCTION ASSOCIATE:
PRO-TEC Coating Company is a leader in the industry with technologically advanced steel at its state-of-the-art facility in Leipsic, OH. The high strength, light weight steel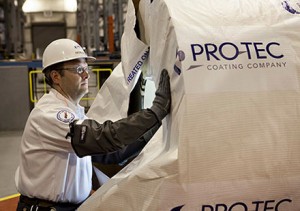 provided to the automotive industry enables them to produce safer, more fuel-efficient vehicles.
Are you looking for a career, not just a job?  Do you take initiative and do quality work?  Are you willing to learn something new?  Do you want to be part of a self-directed work team?
 PRO-TEC provides classroom and on-the-job training to ensure new Associates get the training they need.   If you are looking for
 a change, start the process today! 
 Earn over $3,500 per month (equivalent to over $20/hr.) and over $880 per month towards your retirement and benefits allocation.
 GROW WITH A WINNING TEAM!
Competitive pay package (including profit sharing) • Customized benefits to meet your personal needs •Emphasis on personal development, including pay-for-knowledge training and tuition reimbursement • Clean, modern work environment with cutting edge technology • Self-directed work teams • Focus on Excellence
To apply, you must have a high school diploma or the equivalent, be at least 18 years of age with a valid driver's license at the time of employment, have the ability to work rotating shifts and perform physically active job tasks.  Candidates must be willing to participate in pre-employment testing and screening. 
Applications will not be accepted at the plant location. 
Only online applications will be accepted. 
To apply online, go to applyohio.com
Click on "PRO-TEC Production Associate"
Then click "Apply Now".
   If you need Internet access, please visit one of the following Spherion offices:
Lima, 216 North Elizabeth St. or Findlay, 1730 E. Melrose Ave.
Questions, call (567)204-4198.
  An Equal Opportunity Employer M/F/D/V
_____________________________________________________________________________________________________________________________________
Summer Coil Packaging Positions Available
Coil Packaging Helpers:  Help needed to maintain adequate staffing levels in the Warehouse through the summer months.  Duties will include, but not be limited to:  strapping and paper wrapping steel coils.  Work the 12-hour rotating shift.
Pay begins at $15.50/hr. (New increased wage!)
RESUME/COVER LETTER NEEDED BY MARCH 31st!                                                   
The following information is needed to be considered for employment. 
Updated Resume

List experience at PRO-TEC or previous employers

Cover Letter with the following information:

Available start date
End date to return to college
E-mail address/cell phone number/home phone number (if applicable)
Major

Please send the required information to PRO-TEC Coating Company, 5500 PRO-TEC Parkway, Leipsic, OH 45856, ATTN:  Tonya Sudlow or submit online at www.proteccoating.com.  Click on Contact, Employment Info., info@proteccoating.com.
______________________________________________________________________________________________________________________________________
Accounting Internship Available
Year-Round Accounting Intern:  Help needed to work year-round in the Accounting Department.  Hours can be flexible based on the student's class schedule.  Full-time Accounting majors preferred.
Summary of Position:  Under the guidance of the Controller and/or the Senior Accountant(s) performs duties related to accounts payable and other general accounting support functions.  Works on a part-time basis while maintaining required class schedule.
Scope of Position:  Process invoices through Accounts Payable/Purchasing system (Oracle EBS).  This includes:
Receipt of invoices
Matching invoices against purchase orders
Verifying receipt of goods and services including volume or piece counts, etc.
Scrap Invoicing & Reconciliations
Entering invoices into Oracle EBS system for payment
Misc. filing
Misc. project work as needed
RESUME/COVER LETTER NEEDED
_________________                                                                                                                                             
 The following information is needed to be considered for employment:
 Updated Resume
List experience at PRO-TEC or previous employers

Cover Letter with the following information:

Available start date
E-mail address/cell phone number/home phone number
College Major
Current year in College
Please e-mail this information to Tonya Sudlow at SudlowTL@proteccoating.com , or send by mail to:
PRO-TEC Coating Company
Attn: Tonya Sudlow
5500 PRO-TEC Parkway
Leipsic, OH 45856
DEADLINE IS:  April 7, 2023