EXPANSION OPPORTUNITIES
PRODUCTION ASSOCIATE
PRO-TEC Coating Company is a leader in the industry with technologically advanced steel at its state-of-the-art facility in Leipsic, OH. The high strength, light weight steel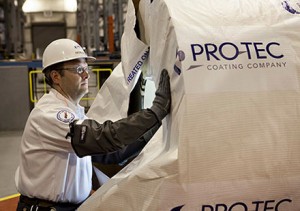 provided to the automotive industry enables them to produce safer, more fuel efficient vehicles.
Are you looking for a career, not just a job?  Do you take initiative and do quality work?  Are you willing to learn something new?  Do you want to be part of a self-directed work team?
 PRO-TEC provides classroom and on-the-job training to ensure new Associates get the training they need.   If you are looking for
 a change, start the process today! 
 Earn over $3,500 per month (equivalent to over $20/hr.) and over $880 per month towards your retirement and benefits allocation.
 GROW WITH A WINNING TEAM!
Competitive pay package (including profit sharing) • Customized benefits to meet your personal needs •Emphasis on personal development, including pay-for-knowledge training and tuition reimbursement • Clean, modern work environment with cutting edge technology • Self-directed work teams • Focus on Excellence
To apply, you must have a high school diploma or the equivalent, be at least 18 years of age with a valid driver's license at the time of employment, have the ability to work rotating shifts and perform physically active job tasks.  Candidates must be willing to participate in pre-employment testing and screening. 
Applications will not be accepted at the plant location. 
Only online applications will be accepted. 
To apply online, go to applyohio.com
Click on "PRO-TEC Production Associate"
Then click "Apply Now".
 If you need Internet access, please visit one of the following Spherion offices:
Lima, 216 North Elizabeth St. or Findlay, 1730 E. Melrose Ave.
Questions, call (567)208-5471.
An Equal Opportunity Employer M/F/D/V
______________________________________________________________________________________________________________________________________HR/Payroll Administrator   
PRO-TEC Coating Company, an innovative leader in technologically advanced steel, currently  seeking a HR/Payroll Administrator at its state-of-the-art facility in Leipsic, Ohio.
HR/Payroll Administrator:  Incumbent coordinates all aspects of both salary and hourly payroll processing, special payments, and all related tasks while adhering to strict deadlines.  Ensures that all payroll activities, taxes, and accounting entries are processed confidentially, timely, and accurately.  Requires high customer service focus and ability to interact with all levels within the organization.  Requires project management and problem-solving skills.  Works with both Associates Broker regarding benefit changes, questions, corrections, and balancing monthly deductions.  Coordinates meetings, recognition programs and Associate/Family support/involvement programs.  Knowledge of ADP Solution software and reports, payroll rules and regulations, accounting and tax withholdings.  Ability to manage multiple assignments and communicate effectively.  Strong PC skills including advanced Excel.
Bachelors degree in Business Administration, Accounting, or related field preferred.  Minimum of 5 years professional HR/Payroll experience.
GROW WITH A WINNING TEAM!
Competitive pay package including profit sharing • Competitive and customized benefits to meet your personal needs •Emphasis on personal development including tuition reimbursement • Clean, modern work environment with cutting edge technology • Self-directed work teams • Focus on Excellence
For consideration, please submit your resume and salary history to: 
PRO-TEC COATING COMPANY
5500 PRO-TEC Parkway
LEIPSIC, OH 45856
ATTN:  HUMAN RESOURCES
or email to:
info@proteccoating.com
An Equal Opportunity Employer M/F/D/V
 __________________________________________________________________________________________________________________________